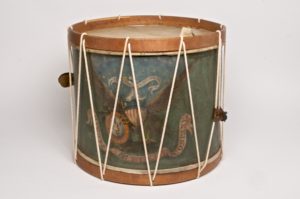 Drum
Wood, rope, leather, calfskin
Dims: 16 ½" dia x 13" h
Massachusetts, ca.1815-1820
Hanover Historical Society, Gift of Mrs. Linda Deane Monroe, 1959
This drum was carried by Avery Deane (1789-1861) of Plympton, Massachusetts, in the Hanover Rifle Company. This Rifle Company was formed in 1816 and included men from several local towns. The Company was transferred to Hanson where it disbanded in 1836. The uniforms of the Rifle Company consisted of green pants and coat with a felt cap with a green plume. The drum is painted a dark green color possibly similar to the uniforms. This drum does not have a maker's label pasted inside of it. The painting on the front is a fine example of the skill local painters used decorating Antebellum militia drums. It shows an eagle with wings outstretched, a slightly tilted shield, and the seal of Massachusetts clutched in the eagle's talons. This drum was donated to the Hanover Historical Society by Avery Deane's great-grand niece.