Events of 2021
---
Archives Fridays
Friday mornings, 10:00am to 12 noon
Location: Activity Room, Hanover Council on Aging,

665 Center St, Hanover, MA 02339
Portions of the Hanover Historical Society Archives are stored at the Council on Aging. This provides not only much needed storage space but an opportunity for volunteers to help work with the collections. Join staff and others working with manuscripts, photographs, ephemera, and more.
---
A One-Day Pop-Up Transportation Exhibit
October 9th, 2021, 12 noon to 4pm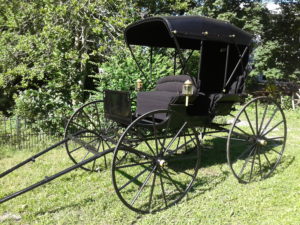 Imagine a carriage driving through Hanover Center. Imagine the time it took to travel across town at the speed of a horse pulling that carriage. See for yourself how different transportation was 150 years ago. The Hanover Historical Society's Carriage, Wagon, and Sleigh collection will be brought out and put on display for this one day only event. See the recently restored 19th Century carriages and learn more about the days of horse-drawn transportation through period photographs and actual vehicles.
---
Wednesday, October 20th, 7pm, Virtual Annual Meeting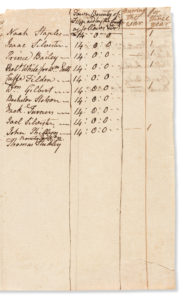 The Hanover Historical Society's Annual Meeting this year will take place virtually. A brief business meeting will be followed by a preview of plans for next year's programming, Stories from the Revolution. This program will be about the current research and future plans to tell personal stories from the time of the American Revolution. It will center on a unique and important document, a listing of soldiers in Col. John Bailey's 2nd Massachusetts Regiment, loaned to the Hanover Historical Society. The first stories to be explored are those of Prince Bailey and Cuffe Tilden, two African-American soldiers from Hanover. 
Hanover Historical Society is inviting you to a scheduled Zoom meeting.
Topic: Hanover Historical Society Virtual Annual Meeting
Time: Oct 20, 2021 07:00 PM Eastern Time (US and Canada)
Join Zoom Meeting
https://us02web.zoom.us/j/88250977100?pwd=ck5wbFJ6NmZuM1BkdGUzRlZFNllNUT09
Meeting ID: 882 5097 7100
Passcode: 6KietP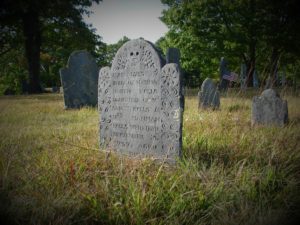 Stories Among the Stones
A Tour through Hanover's Center Cemetery
Saturday, October 23rd, 4pm.
There are stories to tell among the stones of every cemetery. Hanover's historic Center Cemetery has 300 hundred years of stories to tell. Join the Hanover Historical Society for a special walking tour through Center Cemetery. Find out about the types and varieties of gravestones and monuments, the people buried in the Cemetery, and the landscape of the cemetery itself. The tour will begin near the entrance across Main Street from the First Church, will take about an hour, and will take place rain or shine.
---
A Ghostly Encounter at Stetson House
Saturday, October 30th, 12noon to 4pm
Have some Halloween fun by visiting the ghosts at the Stetson House. The House, Barn, and grounds will be decorated for Halloween with all sorts of ghosts. There will even be a Ghost Garden to wander through. This is a family-friendly event. There will be a story-time at the John Curtis Library. There will be other activities and refreshments.
---
Blacksmithing Demonstration with Master Blacksmith Dean Rantz
Saturday, November 6th, 12 noon to 4pm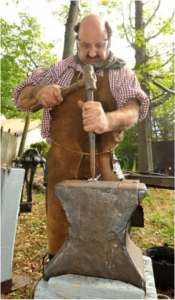 Learn more about the almost forgotten craft of traditional blacksmithing  with Master Blacksmith Dean Rantz of Rock Village Forge in Middleborough. He will demonstration traditional, historic blacksmithing methods, tools, and techniques. Dean is a blacksmith with over 30 years of experience and he's demonstrated his craftsmanship at many historical societies, house museums, fairs, and reenactments across Massachusetts. Learn more about Dean and his story at his web site: http://rockvillageforge.weebly.com/
---
Butter Making & Churning Demonstration
Saturday, November 20th, 12 noon to 4pm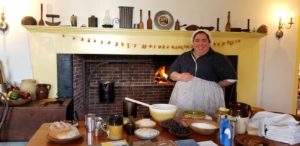 Just in time for Thanksgiving, learn more about the history of butter! Join Foodways Historian Stacy Booth to explore the rich history of butter making. See original butter churns and try your hand at churning butter. 
---
Sleigh Bells Ring at Stetson House!
Saturdays, December 4th, 11th, and 18th, from 12 noon to 4pm
See the Stetson House, Barn, Cobbler's Shop, & Grounds all decorated for the Holidays with bells. Sleigh bells, cow bells, hand bells, all types. Tours will be self-guided. Scavenger hunts for children. Interactive bells of different types to hear the sounds of holiday celebrating.
---