Events of 2022
---
Archives Fridays
Friday mornings, 10:00am to 12 noon
Location: Activity Room, Hanover Council on Aging,

665 Center St, Hanover, MA 02339
Portions of the Hanover Historical Society Archives are stored at the Council on Aging. This provides not only much needed storage space but an opportunity for volunteers to help work with the collections. Join staff and others working with manuscripts, photographs, ephemera, and more.
________________________________________________________________
Nostalgia Series
The Hanover Historical Society & the Hanover Council on Aging
Presents Remember When: The Hanover Mall
Thursday, October 13th, 6:30pm at the Hanover Council on Aging, 665 Center Street, Hanover MA 02339
What are your memories of the Hanover Mall? A favorite store? The water fountain on the middle? The Christmas decorations? The concerts, programs, and events? Join the Hanover Historical Society and the Hanover Council on Aging for a presentation and discussion remembering the Hanover Mall. Bring your own stories, photographs, and memorabilia to share memories for this special Nostalgia Series program.
____________________________________________________________________
Early Hanover: A Four Corners Walking Tour
Saturday, October 22nd at 10:00am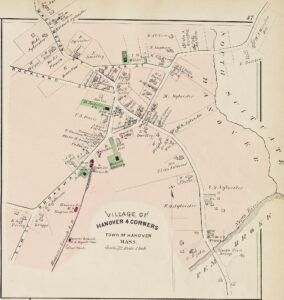 Join us for one hour walking tour of Hanover Four Corners! The Hanover Historical Society's intern Jack McLaughlin, a senior majoring in History at Bridgewater State College and Hanover resident will lead a walking tour of the Four Corners neighborhood. The tour will focus on the Early Hanover exploring the buildings and houses, streets, and figures from Hanover's past.
The tour will last about one hour. Meet in front of St. Andrew's Church.
---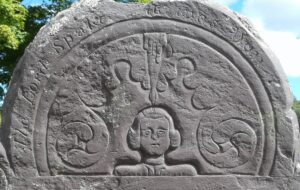 Just in Time for Halloween!
Stories & Stones, Strange & Unusual: A Tour of Hanover Center Cemetery
October 29th, 4:00pm, 2022
There are hundreds of burial sites, gravestones, and stories to be found in Hanover's historic Center Cemetery. Deaths curious and unique, gravestones with strange skeletal faces and portrait carvings, unusual occurrences and mysteries, they can all be found there. Join the Historical Society for a tour through the Center Cemetery, exploring some of the more unique gravestones and unusual stories from Hanover's past.
The tour will meet at the Cemetery Entrance across Main Street from the First Congregational Church at 4pm and will last approximately one hour.
---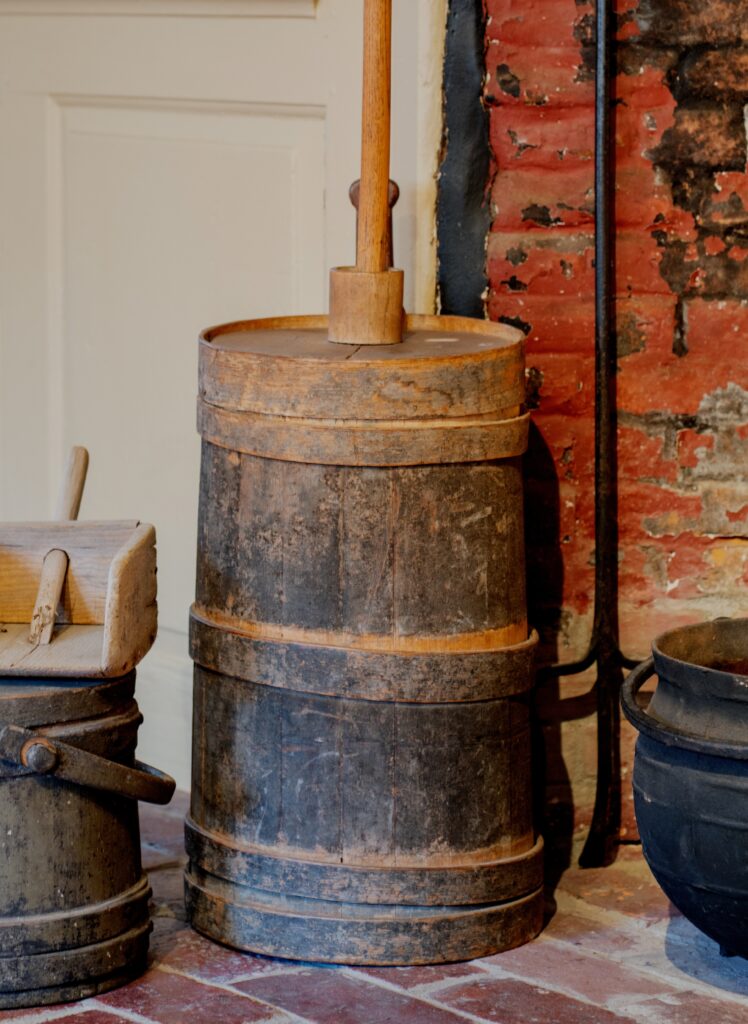 Butter Making & Churning Demonstration at the Stetson House
Saturday, November 12th, 12 noon to 4pm
Just in time for Thanksgiving, learn about the history of butter! Hanover's dairy farms produced butter throughout the years. It was a staple food and is still important today. But making it was a slow and tedious task. Join Foodways Historian Stacy Booth to explore the rich history of butter making, see original butter churns on display, and try your hand at churning butter for yourself.
__________________________________________________________________________________________________
Hanover Historical Society
2022 Annual Meeting: Planning for Hanover's 300th
Saturday, November 19th, 3:30-4:30
John Curtis Free Library, 534 Hanover Street, Hanover, MA 02339
The 2022 Annual Meeting of the Hanover Historical Society will take place on Saturday, November 19th, at 3:30 in the Large Meeting Room of the John Curtis Free Library. There will be a brief business meeting to start. This will be followed by a presentation on how Hanover has celebrated its history during previous anniversaries and a discussion of plans for the town's 300th Anniversary in 2027. A display of historic materials and publications will be on view. Members, friends, and the Hanover community are welcome to attend and share in the planning efforts for this upcoming, historic celebration.