EVENTS IN 2017
---
---
Shipbuilding on the North River: Spyglass on Hanover Shipyards
Join us as the Hanover Historical Society presents a program featuring author and historian John Galluzzo.
7pm, Wednesday, February 22, 2017
John Curtis Free Library,
534 Hanover Street, Hanover, MA
Barstow's Shipyard, Hanover, photograph by L. Vernon Briggs, ca.1889, Hanover Historical Society Archives
______________________________________________________________
Needlework Samplers, March 25th through May 29th
The Hanover Historical Society owns a collection of thirteen needlework samplers from the early 19th century. Commonly made by young girls as a way to learn sewing, samplers are prized today for their artistry and their history. Like other craft traditions, samplers were taught by women who were experienced needle-workers to young girls and teenagers. Samplers are sometimes simple, just letters and numbers in silk sewn onto a linen canvas, but sometimes they show remarkable skill in creating flowers, decorative borders, architectural elements, and sayings similar to the epitaphs on gravestones.
______________________________________________________________
Cemetery Tour, Union Cemetery, Assinippi, Saturday April 15th, 10am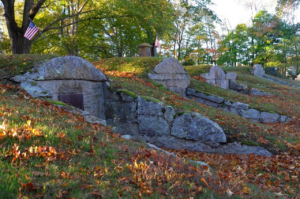 Explore the stones, the stories, and the grounds of Union Cemetery in the Assinippi neighborhood of Hanover with Stephen O'Neill, the Executive Director of the Hanover Historical Society. The Cemetery was established in 1789 and still used for burials today. The cemetery features interesting stones from the late eighteenth and nineteenth centuries, a series of vaults and tombs, and grounds that were laid out in an ordered fashion unlike many of the older burying grounds, making this one of the rare Federalist-style cemeteries. Plots were originally sold by a group of proprietors who owned the cemetery.
Tour will last about an hour.
---
Memorial Day, Monday,May 29th, Parade at 10am, Stetson House open, 9am to 3pm
______________________________________________________________
Historic American Drums, June 3rd through Aug 26th
Special Exhibit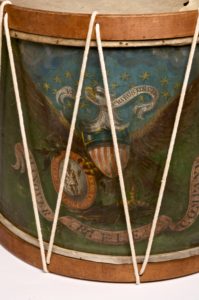 The house is called the "Drummer Samuel Stetson House" for its builder and first owner and in the collection of the Hanover Historical Society is a rare and well-preserved example of an early American drum. The drum was carried by Avery Deane of Plympton in the Hanover Rifle Company and dates from ca.1816-1820. The dark green paint is reminiscent of the color of the company's uniforms. This drum and others from private and public collections will be displayed at Stetson House for their craftsmanship, their folk-art painting, and their history as musical instruments of both war and peace. The exhibit will provide an opportunity to examine the role drums played in local history; they were used by the Native Wampanoag, drums were brought on board the Mayflower, drums called men to service in the Revolution and the Civil War, and drums were played by generations of Hanover's residents.
______________________________________________________________
---
Saturday, June 24th, Hanover Day at Stetson House
Hanover Day is an event not to be missed! Stop by the Stetson House between 10am and 4pm, for activities in celebration of Hanover Day. The Stetson House, Cobbler's Shop and Barn will be open all day, with special activities from 10am to 2pm. Hanover Garden Club will continue their tradition of providing a Fairy Garden activity on the Stetson House grounds. HHS members will again demonstrate crafts in front of the Barn. See the historic Charles Gleason wagon, the Ezra Phillips & Son 1889 wagon. Since this occurs at the Drummer Samuel Stetson House, new this year will be Drum-Craft, where professional drummers will discuss the history of drums and drumming with antique and modern drums. There'll even be toy drums for children to try!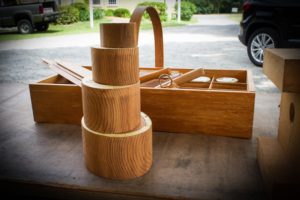 ---
"Prouty Plow: Symbol of Hanover"
Saturday August 12th, 10am to 3pm
Stetson House Barn, 514 Hanover Street, Hanover MA
There is an image of a plow on the Town of Hanover seal. It is one of the symbols of the community along with the anchor made for the USS Consittution. The plow is known as the "Prouty Plow," after its inventor. But how much do you really know about it?
The Prouty Plow was invented by David Prouty (1778-1846) who lived in North Hanover from 1811 until 1836. He developed a cast iron blade that would be more effective for the rocky soil of New England. Prouty demonstrated the plow to his doubtful Hanover neighbors and won their praise. The plow was so successful that he joined with John Mears to form Prouty & Mears, had patents for his plows, and moved to Boston. Stop by Stetson House on Saturday, August 12th,  from 10am to 3pm to learn more about the David Prouty and his plow.
---
Stetson House 300 Years, September 9th through November 25th
The Stetson House is Hanover's oldest structure and one of the very few First Period (1620-1720) houses left in Massachusetts. The story of construction, its history of ownership through four generatons of Stetsons, is occasional use as a meetinghouse, tavern, and post office, and its preservation as a museum since the 1920s will form the basis for this exhibit. It will explore and celebrate this house for its architectural significance, its social importance as a home for the Stetson family almost two centuries, and its place as one of Hanover's most identifiable landmarks. The exhibit will use photographs, artwork, and the memories of Hanover's residents to appreciate the house's historic past and its preservation for the future.
__________________________________________________________
Assinippi Memories
6pm, Saturday, September 30th
First Universalist Church
484 Washington Street, Norwell, MA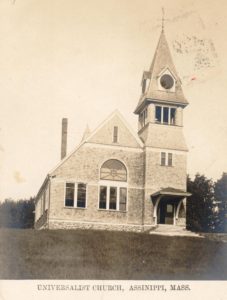 Hanover Historical Society presents Assinippi Memories, a special program at 6pm, Saturday, September 30, 2017, at the First Universalist Church, 484 Washington St., Norwell. Hanover Historical Society Co-President Les Molyneaux will present a discussion of the neighborhood's history with special guests Marie Anderson and Richard Whiting
This program is free for members of the Hanover Historical Society and the Norwell Historical Society, non-members are suggested to make a $5 donation.
Refreshments will be served.
This program sponsored by Rep. David DeCoste
---
Center Cemetery Across Three Centuries
11am, Saturday, October 14th, 2017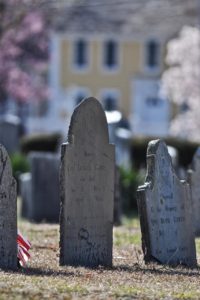 Join Stephen O'Neill, Executive Director of the Hanover Historical Society, for tour of Hanover's Center Cemetery. This cemetery has been the principle burial location of Hanover's residents for almost 300 years. The changes across the centuries can be seen in this Cemetery, in its gravestones and memorials, in its landscape, and in the generations of Hanover's townspeople who are buried here. This tour will explore the differences and similarities of the 18th, 19th, and 20th centuries as revealed throughout the cemetery. This tour will last about one hour and will be held rain or shine.
________________________________________________________
Annual Meeting and Dinner
6pm, Friday, October 20th, 2017
Phoenix Lodge Masonic Hall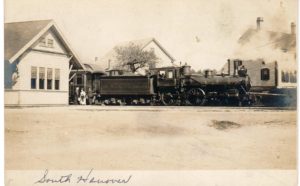 133 Broadway, Hanover, MA
Members $20 per person, non-members $25 per person
Join the Hanover Historical Society for its Annual Meeting and Dinner featuring guest speaker John Galluzzo, noted author, local historian, and Historical Society Board member, who will be speaking on "When the Train Came to Hanover."
__________________________________________________________
Ever wonder why there are stone walls in the woods in Hanover? Come find out!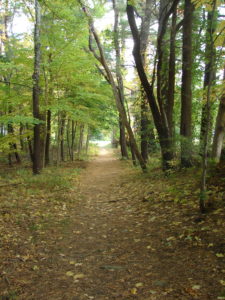 Open Space Trail Walk
And Open House at Station 5 Fire House
Oct, 28th, 2017, 2-4pm, Trail Walk at 3pm
The Hanover Open Space Committee will host a Trail Walk on Saturday, October 28th starting at the Station 5 Fire Museum, 1095 Broadway. The Station 5 Fire House will be open from 2 to 4pm and the Trail Walk with Hanover Open Space Committee will start at 3 pm. The trail leads through former farms and old stone walls deep in the woods.
---
5th Annual Festival of Trees at Stetson House
Saturday, December 2nd, & Sunday, December 3rd, 2017
12 to 4pm both days