Musical instruments were rare in Colonial Hanover, limited to a handful of drums, fifes, and bells. By the 19thCentury, instruments were becoming more affordable and common in average homes. Many instruments were imported from European manufacturers. Instrument makers emigrating to the United States in the early 1800s began making instruments in Boston and other cities, training a generation of American-born instrument makers. Drums were still popular, but brass horns, woodwinds, and string instruments became widely available. Pianos and pump organs appeared in many American homes by the mid-1800s. Toy instruments, introducing children to playing music, were just as popular and often finely crafted. Music was played on instruments in the home, for family and friends, or listened to at public concerts by town bands and orchestras. Today, musical instruments are found in almost every American home.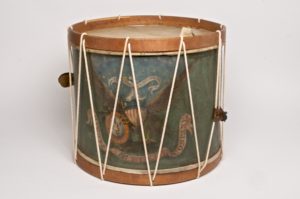 Drum
Wood, rope, leather, calfskin
Dims: 16 ½" dia x 13" h
Massachusetts, ca.1815-1820
Hanover Historical Society, Gift of Mrs. Linda Deane Monroe, 1959
This drum was carried by Avery Deane (1789-1861) of Plympton, Massachusetts, in the Hanover Rifle Company. This Rifle Company was formed in 1816 and included men from several local towns. The Company was transferred to Hanson where it disbanded in 1836. The uniforms of the Rifle Company consisted of green pants and coat with a felt cap with a green plume. The drum is painted a dark green color possibly similar to the uniforms. This drum does not have a maker's label pasted inside of it. The painting on the front is a fine example of the skill local painters used decorating Antebellum militia drums. It shows an eagle with wings outstretched, a slightly tilted shield, and the seal of Massachusetts clutched in the eagle's talons. This drum was donated to the Hanover Historical Society by Avery Deane's great-grand niece.
C.F. Zimmerman Company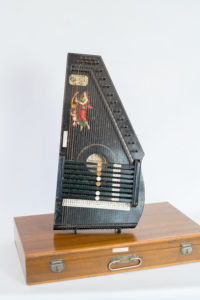 Autoharp with Case
Wood, steel
Dims: 21" x 10" x 2"
Dolgville, NY, ca.1893-1899
HHS 1998.127
This instrument is a Zimmerman Autoharp model number 72 7/8. It was made by the C. F. Zimmerman Co. of Dolgeville, NY, sometime in the 1890s. The autoharp is technically a "chorded zither." It is designed to be played while being held upright. Dampeners are pressed to produce chords, while the strings are strummed or plucked. German immigrant Charles F. Zimmerman first patented an "autoharp" in 1882. This autoharp was owned by Ella May Stetson Bates (1874-1948) who was a teacher at the King Street School in Hanover. She was the daughter of Turner Stetson (1829-1909) and Juletta Sylvester Church (1834-1919). Turner Stetson was born in the Historic Samuel Stetson House in Hanover Center. Ella May Stetson married Ernest Felton Bates (1872-1920) and their son was Thomas Drew Bates (1915-1984), who is the T. Drew Bates seen on the labels pasted onto the autoharp and case.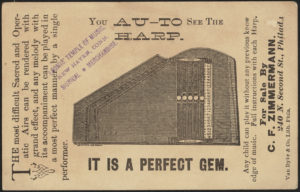 Autoharp trade card, Boston Public Library, Print Department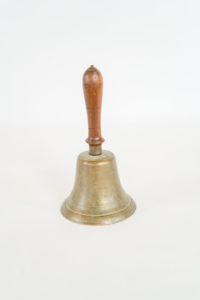 Handbell
Brass, wood
Dims: H 7" x dia. 4"
American, early 20th Century
HHS 2018.5, Gift of Diane Teuten, 2018
This small handbell was used by Helen Whiting, a Hanover teacher for over forty years. Bells are metal instruments of ancient design and widespread usage. Bells can used for making music or for signaling. The loud, resonant, and metallic tone of a brass or bronze bell has long been used in churches and town buildings, on ships, and in schools. A January 15th, 1754, advertisement in the colonial newspaper The Boston Gazette or Weekly Advertiserread "Caleb and Robert Barker in Hanover: cast Bells for Meetinghouses and other uses, from a smaller to a greater, even to one of two thousand weight; cheaper than they can be imported; By whom all persons may be supplied on reasonable terms." The Barker brothers' forge was located East of King Street across from Forge Pond on the Drinkwater River.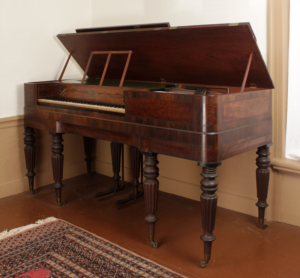 Alpheus Babcock (1785-1842)
Pianoforte
Mahogany
Dims: 53" x 41" x 12"
Boston, 1822-24
HHS 0000.1341
Museum Purchase, 2006
Inscribed "Built by A. Babcock for G.D.Mckay"
This square pianoforte was made by Boston piano-maker Alpheus Babcock. He was born in Dorchester, and apprenticed in Milton with Benjamin Crehorne (d.1825), one of the first piano-makers in Massachusetts. Babcock worked in partnership with several Boston piano makers and dealers before moving to Philadelphia in 1830. When Babcock returned to Boston in 1837 with Jonas Chickering and others. This piano dates from the 1820s when Babcock worked with the McKay family who were wealthy industrialists, ship masters, and musical instrument dealers. This piano was made at a workshop near Parkman's Market in the West End of Boston for George Dowling McKay (1792-1824). Square pianos were more economical than grand pianos, and could fit inside more homes. This piano is possibly a Stetson family piece but its provenance, its history of ownership, is uncertain.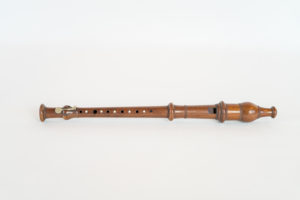 Flageolet
Rosewood, ivory, brass
Dims: L 14"
American, 19th Century
HHS1998.0060
Museum purchase from the Fannie H. Phillips Estate, 1994
This instrument is a flageolet, a woodwind instrument in the flute family, related to recorders and tin whistles. It is made of rosewood, a dark, richly colored wood used for furniture, chess pieces, and other musical instruments like flutes and the wooden bars of a marimba. Flageolets were easy to play and produced a high-pitched, clear, warm tone. This one is missing its mouthpiece. Flageolets were popular in the mid-19thcentury but fell out of fashion by 1900. This flageolet belonged to Morrill Allen Phillips (1844-1918) of Hanover.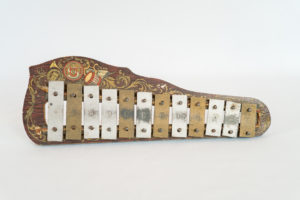 Schoenhut Company
Metallophone
Wood, steel
Dims: 16 ½" x 6"
Philadelphia, ca.1910-1920
HHS 2013.0018
This toy metallophone, the technical name for the instrument, is made from tuned metal bars, similar in construction to a glockenspiel. It is related to the xylophone and marimba which have tuned wooden bars. This is a twelve-note metallophone. The metallophone's metal bars are struck with a mallet to produce a clear and high tone. The Schoenhut Company was founded by German immigrant Albert Schoenhut (1848-1912) to manufacture toy pianos, glockenspiels, xylophones, and other musical instruments. The company still exists today and is still making toy musical instruments.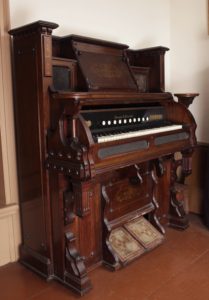 Mason& Hamlin
Parlor Organ
Wood, ivory
Dims: H 54" x W 47 ½" x D 22"
Boston, MA, 1880-1890
HHS 1998.0122 Museum purchase, 2006
This parlor organ, also called a pump organ or reed organ, was made by Mason & Hamlin, one of the most popular manufacturers of organs and pianos in 19thCentury America. Parlor organs were played by using the foot pedals to move air past metal reeds to create sound. Pipe organs found in churches required a lot of space, but parlor organs could fit inside most American homes and were still closely associated with religious music. The sound produced was similar to pipe organs using stops to adjust the flow of air to the reeds and a single keyboard to produce the notes. The entire instrument is housed in a wood casing with decorations and architectural details. Screens above and below the keyboard allow the sound to be amplified outward while allowing the inner working to remain hidden.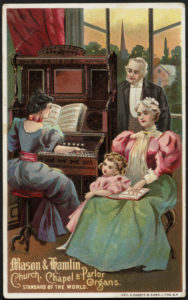 Mason & Hamlin Trade Card, 1870-1900
Boston Public Library, Print Department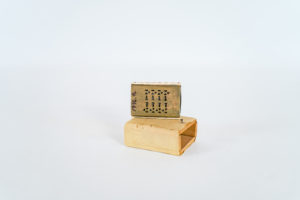 Pitch Pipe Harmonica with Case
Wood, brass
Dims: 2 3/8" x 1 ¾" x 5/8"
American, ca.1900
HHS1996.0046, Gift of the Philips Estate, 1996
Pitch pipes useful but limited in their purpose and capabilities as musical instruments. They are designed to produce a single note for reference by musicians or singers, particularly for groups of people singing publicly, especially in churches. This unmarked pitch pipe works just like a harmonica by blowing through the round holes on either side. It has a custom-made case of wood and paper.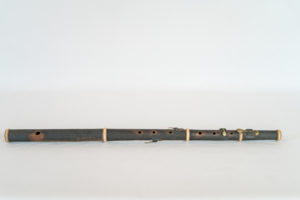 Alto Flute
Cocuswood, ivory, brass
Dims: L 24" x 1" dia.
English or American, ca.1820-1840
HHS1994.0117.a
Museum purchase from the Fannie H. Phillips Estate, 1994
This flute is made from cocuswood, a dense tropical hardwood from the Caribbean that was popular among instrument makers in 19thCentury Europe and the United States. Signs of wear at the mouth and fingerholes not only show the wood's shading beneath the black stain but are also signs of frequent use. This flute, technically a transverse flute, is similar in design and materials to other examples from the first quarter of the 19thCentury in Museum of Fine Arts Boston, the Metropolitan Museum, and the National Music Museum on the campus of the University of South Dakota. It is a finely made instrument with clean lines, but is unmarked by a maker. Considered a "baroque flute," this example is a predecessor of the modern concert flute with the multi -key system introduced by Theodore Boehm in 1847.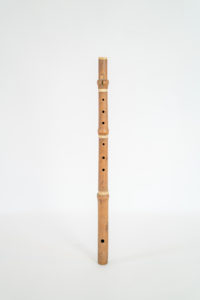 Flute in C
Boxwood, ivory
Dims: L 20 ½" x 1" dia.
London, ca.1820-1840
HHS1994.0117.b
Museum purchase from the Fannie H. Phillips Estate, 1994
This Flute in C is stamped "Metzler London" for the maker/distributer. Valentine Metzler (died 1833) was a German-born emigrant who began working in London in 1788, making woodwind instruments. His son George R. Metzler (1797-1867) joined his father in 1816 and succeeded him in making and selling woodwinds and other instruments. This flute is made of boxwood, a species of evergreen trees and shrubs that produce a dense, fine-grained wood ideal for musical instruments like flutes and recorders, and popular as a material for chess pieces. Box wood however tends to bend or split over time. Boxwood flutes are described as having a bright tonal quality and a mellower sound than other hardwood flutes made from ebony or grenadilla, and very different than modern metal flutes. This flute has ivory rings where the pieces of the flute attach. It has six finger holes and is missing the key on the foot joint. The flute was acquired from the estate of Hanover resident Fannie Hitchcock Phillips (1888-1983). It belonged to her father Morrill Allen Phillips (1844-1918).