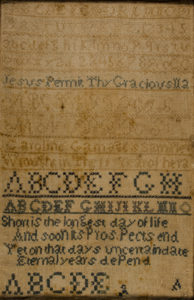 1. Caroline Gamage (formerly thought to be Cain)
Linen with silk thread
Massachusetts, 19th Century
HHS 1996.0033 Donor Unknown
This early sampler was a work in progress for the eleven-year-old girl who made it. The middle rows include the lines "Caroline Gamages sampler / Wrought in the 11 year of her a[ge]." Young Caroline ran out of room for the last word. Several versions of stitched alphabets and numbers are included, many of which also run out of room on the line, along with a few religious sentences. This is obviously a "test" sampler which young Caroline used for practicing her needlework. Without more biographical details and no decorative elements on the sampler, the date is uncertain, but based on the rectangular shape and types of stitches, it most likely dates between 1795 and 1820. The sentence in green thread stitched near the top reads: "Jesus permit thy gracious II a." The poem near the bottom reads "Short is the longest day of life / And soon its prospects end / Yet on that days uncertain date / Eternal years depend."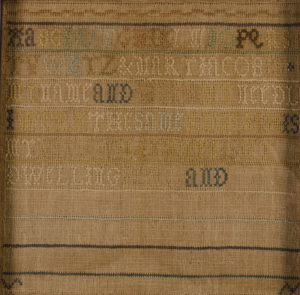 2. Mary M. Cob (Hersey)
Linen with silk thread
Scituate MA, 1814
HHS 0000.0147 Gift of Mary H. Breck
This multi-colored sampler reads "Mary M. Cob is my name and with my needle I work this same English is my nation Scituate is my dwelling place." Although made by Mary Cobb in 1814 long after the creation of the United States, Mary was following an old convention by copying the phrase "English is my nation," perhaps from another older sampler. The identity of Mary Cobb is uncertain.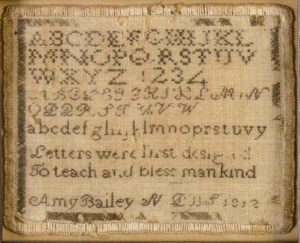 3. Amy Bailey (1797- 1870?)
Linen with silk thread
Hanover MA, 1812
HHS 1995.173 Gift of Mr. and Mrs. Donald Jacobs
This diminutive sampler was wrought by Amy Bailey in 1812 when she was about 15 years old. She was born in 1797 and was the daughter of Hanover clockmaker name John Bailey (1751-1723). She married twice in her life time, first being her marriage to Captain Edward Barstow on September 2nd, 1821. Amy and Captain Barstow had six children where they lived near Four Corners before his death on January 27th, 1833. The widowed Amy then remarried William Dawes on August 18th, 1846. The couple lived on Washington Street until William passed on February 19th, 1867. This small sampler has letters numbers and the saying "Letters were first designed/to teach and bless mankind."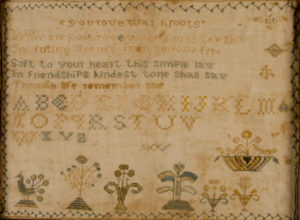 4. Anonymous
Linen with silk thread
Massachusetts, 19th Century
HHS 0000.0718 Gift of Donnell B. Young
This linen sampler is embroidered with silk thread. A poem shown in pink and blue including upper and lowercase letters with a vine border. The text reads: "You rove with foots Where ere you rove with footstep gay//In future scenes from sorrow free Soft to your heart this simple lay//In friendships kindest tone shall say Through life remember me." Flowers and birds decorate the lower portion of the sampler along with other shapes and a jagged border.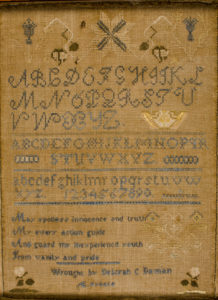 5. Deborah C. Damon (b.1815)
Linen with silk thread
Hanover, MA 1824
HHS 1995.0163, gift of Mr. & Mrs. Boardman
This sampler was created by Deborah C. Damon. Upper, lowercase, and cursive alphabet letters are depicted in blue. It also reads "May spotless innocence and truth my every action guide and guard my inexperienced youth from vanity and pride". Flower and vine designs surround the text along the border and the crown. Deborah was born on October 3rd, 1815 and was nine years old when she crafted this sampler in 1824. She married Benjamin Barker (b.1810) of Hanson on November 10th, 1839. Deborah and Benjamin had eight children by the names of John, Hannah, Deborah, Charles, George, Sarah, Ida, Albert, and Franklin.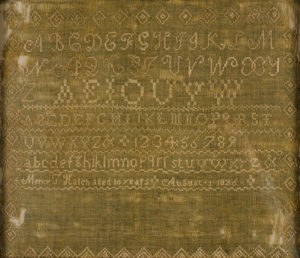 6. Mercy T. Hatch (b.1816)
Linen with wool thread
Scituate, 1824
HHS 0000.0048C Gift of Maria Jacobs
This sampler was made by Mercy T. Hatch when she was 10 years old, and is dated August 1st, 1824. The sampler includes upper and lower case alphabets as well as a decorative border and the numbers 1-9. This sampler is on an emerald green colored linen background rather than the more common tan. Mercy (or Marcy) Turner Hatch married Abiel Leach, Jr., in Boston in 1830. After his death in 1836, she remarried Newhall Martin (1802-1880) of Charlestown. Her death date is uncertain, although she outlived her second husband.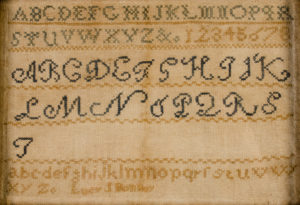 7. Lucy B. Bonney (1820-1900)
Linen with wool thread
Hanover MA, 1830
HHS 1993.0013 Donor Unknown
This is a linen sampler with green, navy, and light brown wool thread, with upper and lower case alphabets, the cursive alphabet, and the numbers 1-8. Lucy signed the sampler. Lucy B. Bonney was born on September 11th, 1820. She was the daughter of Josiah Bonney and Mercy Waterman Rose. She was a descendent of the Bonney Ink Family, the factory of which was located on Broadway in Hanover. Lucy lived in the family home until marriage on Old Washington street in Hanover, which has since been passed down through the generations of the family. She married Robert H. Studley on October 23rd, 1843; Robert passed away on May 1st, 1843 and Lucy passed away on February 26th, 1900 at the age of 79. Lucy B. Bonney was the great aunt to Lucy Josselyn Bonney, born in 1891, who was very active in the Hanover Historical Society and other aspects of town life.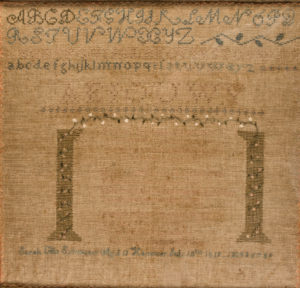 8. Sarah Ellis Sylvester (1808-1850)
Linen with silk thread
Hanover MA, July 12th, 1819
HHS 1995.0001 Gift of George and Marinda Bennett
This sampler was made by Sarah Ellis Sylvester age 11 of Hanover. Sarah was born on March 21st, 1808. She married Samuel Church on December 14th, 1828, they lived on Washington Street. The couple had eight children by the names of Samuel, Timothy, Juletta, Sarah, Mary, Robert, Benjamin, and Alice (who died at only five months old). Sarah died on December 28th, 1850, and Samuel later died on May 7th, 1883. This sampler includes upper and lowercase letters of the alphabet, and a poem framed by columns and flowers. The text of the poem was threaded with pink silk and is now unfortunately illegible.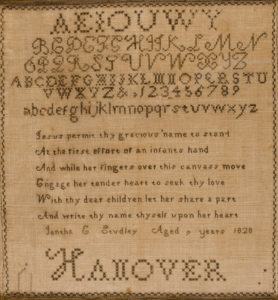 9. Iantha E. Studley (1819-1895)
Linen with silk thread
Hanover MA, 1828
HHS 2004.0019 Donor Unknown
This sampler was made by Iantha E. Studley of Hanover when she was 9 years old. Iantha was born on February 26th, 1819. She married Joseph W. Gurney on May 25th, 1837, the couple had five children named Warren, Matilda, Lysander, Ann, and Lilla. Iantha died on July 4th, 1895, long after Joseph died who had died on August 29th, 1869. There are records of five grandchildren as well. This sampler includes upper and lowercase lettering, the cursive alphabet, and numbers 1-9. The poem reads "Jesus permit my gracious name to stand, At the first effort of an infants hand, And while her fingers over this canvas move, Engage her tender heart to seek thy love, With thy dear children let her share a part, And write thy name thyself upon her heart."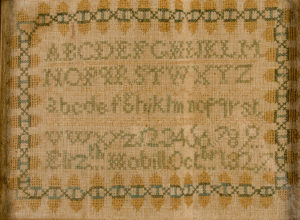 10. Elizabeth Hobill (d.1895)
Linen with silk thread
England, 1827
HHS 2008.0067 Purchased from Caddigan Auction House
This English sampler is made with light green text and a dark green border depicting the alphabet in upper and lower case. Writing on the back of the sampler before reframing read "Elizabeth Hobill born in Brin(?), Livcestershhier(?) England, June 8th, 1817." Elizabeth married John Savage on April 12th, 1842, she later died on June 27th, 1895 in Hanover Massachusetts. Maria Savage Harlow signed this sampler "Christmas 1925" on the back as well.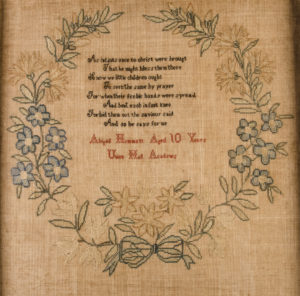 11. Abigail Hammett (1809-1891)
Linen with silk thread
Hanover MA, 1819
HHS found in collection, source unknown
This Sampler was wrought by Abigail (Abby) Hammett in 1819. This work displays flowers, bows, and a poem reading: "As infants once to Christ were brought that he might bless them there so now we little children ought to seek the same by prayer for when their feeble hands were spread and bent each infant knee forbid them not the savior said and so he says for me" Abigail Hammett Aged 10 years//Union Hall Academy." Union Hall Academy was a school from 1792 to 1873 in Jamaica, now part of Queens, on Long Island in New York. Abigail Hammett married Captain Nathaniel Barstow (1799-1885), a shipmaster, in July 1837. Captain Nathaniel had one daughter named Grace from a previous marriage, and Abigail and Nathaniel had four daughters by the names of Lucy, Mary, Sarah, and Marietta at Hanover Four Corners where they lived. Abigail died on April 23rd, 1891.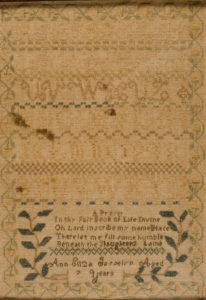 12. Ann Eliza Josselyn (1812-1903)
Linen with wool thread
Hanover, MA 1826
HHS 1995.0172 Donor: Mr. & Mrs. Donald Jacobs
Ann Eliza. Josselyn made this sampler when she was seven years old. It shows fine needlework in the borders and vines near the bottom, and contains "A Prayer/ In thy fair book of life / Oh Lord inscribe my name [place / There let me fill some humble / Beneath the slaughtered Lamb." was the daughter-in-law of Amy Bailey, Amy's sampler was made in 1812 and can also be found in this exhibit. Ann married Robert Barstow on December 24th, 1846. Ann and Robert had two children named Amy and Frances, Frances passed away just under one year of age. The family lived in Newton, MA, Robert was a Naval Officer from 1861 to 1865. Letters exchanged between the couple indicate that Robert was stationed far from home during his service with the Navy. Ann E. Josselyn passed away on July 15th, 1903.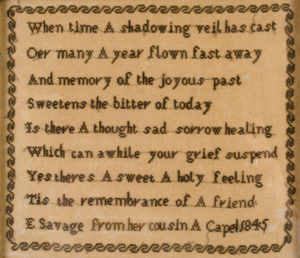 13. A. Carpel
Linen with silk thread
Hanover MA, 1845
HHS 2008.0066 Purchased from Caddigan Auction House
This sampler was made by A. Carpel in 1845 for her cousin E. Savage. It has black letters and a border. The text reads: "When time a shadowing veil has cast / Oer many a year flown fast away / And memory of the joyous past / Sweetens the bitter of today / Is there a thought sad sorrow healing / Which can awhile your grief suspend / Yes theres a sweet a holy feeling / Tis the remembrance of a friend"