Events for 2023
---
Archives Fridays
Friday mornings, 10:00am to 12 noon
Location: Activity Room, Hanover Council on Aging,

665 Center St, Hanover, MA 02339
Portions of the Hanover Historical Society Archives are stored at the Council on Aging. This provides not only much needed storage space but an opportunity for volunteers to help work with the collections. Join staff and others working with manuscripts, photographs, ephemera, and more.
________________________________________________________________
Historic Chocolate—Sample Some History
This event has past, but visit this short video to learn more:Chocolate Making with Hanover Historical Society (hanoverctv.org)
Chocolate has one of the richest histories around. Long before full and fun-sized chocolate bars, long before the Christmas and Valentine's Day boxes of assorted chocolates, it was a spiced, hot drink prized by the people of Central America. Europeans developed a passion for chocolate, most often "taking chocolate" as a breakfast drink. Learn about the surprising history of chocolate in early America, from bitter to sweet, from Mexico to Massachusetts, in this Hanover Historical Society program. Explore how chocolate was made from cacao beans through a process of harvesting, grinding, grating, and flavoring. See a demonstration using traditional chocolate-making equipment, a stone metate for grinding, a chocolate pot and molinillo for mixing and frothing, and spices like nutmeg, vanilla, and cinnamon for flavoring. And best of all, sample some traditional, spiced hot chocolate.
____________________________________________________________________
Spring Walking Tours with Jack!
Luddam's Ford, Saturday, April 1st at 10:00am & Four Corners, Saturday, April 15th at 10:00am
Join the Hanover Historical Society's intern Jack McLaughlin, a Hanover resident and senior majoring in History at Bridgewater State College, for two one-hour walking tours of Luddam's Ford and Hanover Four Corners this Spring! Join Jack to explore two of the most historic areas in Hanover. The tours will take place on Saturday morning at 10am, regardless of weather, unless it is extreme.
Luddam's Ford: A Natural & Industrial History Tour, Saturday, April 1st, 10am
Explore the natural and industrial history of Luddam's Ford, where Hanover's Elm Street meets Pembroke's West Elm Street on the bridge over the North River. This tour will cover the site from its earliest use by Native Americans, to its namesake event when James Ludden (notice the spelling) carried Governor John Winthrop across the river on his shoulders, to the more than three centuries of irons forges and rubber manufacturing at the site.
The tour will start at the Hanover side parking lot, cross the historic 1894 bridge to the Pembroke side, and return to finish back on the Hanover side. The tour will last about one hour, wear comfortable shoes, and will take place unless the weather is extreme.
Four Corners: The Revolution and Early Republic Years, Saturday, April 15th, 10am
Hanover's Four Corners neighborhood was the town's bustling business hub during the years of the American Revolution and the decades of the Early Republic when shipbuilding was at its height. This tour will explore the several buildings still standing from that time, to tell the stories and events associated with those years, the tavern keepers, merchants, farmers, shipwrights, and their families, who lived through the earliest years of the country. The tour will begin in front of St. Andrew's Church, loop through the neighborhood, and last about one hour. Wear comfortable shoes and be prepared for any weather, unless the weather is extreme.
____________________________________________________________________
Tavern Night at Stetson House!
Saturday, May 6th, 2023, 4pm to 7pm.
On Saturday, May 6th, the Hanover Historical Society will host a night of merrymaking at the Historic Drummer Samuel Stetson House in Hanover Center!
Samuel Stetson was a noted man in 1700s Hanover when his home was a "tavern stand and a famous place of resort." Enjoy an evening of food, music with the Wildcat Bogstompers, and beer from Stellwagon Beer Company to celebrate the history of Hanover's 18th Century hospitality. Explore the Stetson House and grounds, see the Cobbler's Shop and Barn, and join your neighbors from the community for our Annual Tavern Night at Stetson House.
Proceeds from this event will benefit the educational programs of the Hanover Historical Society.
Tavern Night is generously sponsored by FPGiglio Properties
____________________________________________________________________
Historic Houses of Hanover
Historic Houses of Hanover is a new program of the Hanover Historical Society highlighting the town's three hundred plus years of architectural heritage. Join us for a series of receptions at some of Hanover's most historic and interesting houses.
First Historic Houses of Hanover Event:
The Matthew Stetson House, ca.1727
233 Washington Street
Sunday, May 21st, from 2 to 4pm.
Space is limited. Price per person, Historical Society members $25, non-members $30, payable by check or cash day of the event
Please RSVP to [email protected] or by calling 781-826-9575.
The Matthew Stetson House, built ca.1727, is a wonderfully preserved early 18th Century home in Hanover's Four Corners neighborhood. It is one of the town's finest examples of Colonial architecture. It also boasts a late 19th Century carriage house and early 20th Century murals of shipbuilding by American artist Macivor Reddie (1899-1966). Join us for this unique opportunity to hear about the house's history and owners, tour through the home and gardens, and help support the Hanover Historical Society.
____________________________________________________________________
History Walk Through Sylvester Field
Saturday, July 29th, 1pm, 129 Washington Street, Hanover
Join Hanover Historical Society President John Galluzzo for a walking tour of Sylvester Field, one of the oldest historic landscapes in town. Sylvester Field was in use for centuries from the 17th into the 20th for farming and haying. This ten acre parcel located on Washington Street and stretching down to the Third Herring Brook has never been developed, and looks much like it has for the past few hundred years. It was purchased by the Wildlands Trust with help from Hanover's Community Preservation Act funds and many individual donors in 2021. The tour will explore the history and wildlife of this preserved piece of Hanover's agricultural past and its importance for today.
Parking is limited, so it is suggested to park at Four Corners and walk down to the Field.
The tour will take place rain or shine, unless the weather is extreme. Parts of Sylvester Field may be wet, marshy, or muddy, please dress accordingly.
Hanover Historical Society www.hanoverhistoricalsociety.com
____________________________________________________________________
The Civil War in the Collections of the Hanover Historical Society
Wednesday, August 16th, 6:30pm, at the John Curtis Public Library,
534 Hanover Street, Hanover, MA 02339
Join Hanover Historical Society intern Sophie Jones, a Hanover resident and student at the University of Maryland, for a talk about Hanover and the Civil War. Drawing on the Historical Society's collection of objects, photographs, documents and items related to the Civil War, the talk will present some of the prominent figures and the battles they were involved in, letters from soldiers, the founding of the town's Grand Army of the Republic (G.A.R.) post, and other significant events that took place during and shortly after the war.
____________________________________________________________________
Hanover Tea Party talk
Friday, September 22, 1 p.m. at the Hanover Council on Aging
Two hundred and fifty years ago this fall, the Revolution was already underway in spirit in many towns throughout Massachusetts. The Boston Tea Party of December 1773 shocked the inhabitants of both the colonies and the British homeland. What were the effects of this brazen act on the South Shore and in Hanover? Join Hanover Historical Society President John Galluzzo for our own Hanover Tea Party as we discuss local reactions to this international event.
____________________________________________________________________
Rail Trail Walk
Saturday, September 23rd, 1pm.
Do you remember seeing trains pass through the West Hanover intersection of Rt.139, Pleasant and Market Streets? Join Hanover Historical Society President John Galluzzo for a guided informative walk along Hanover's Rail Trail. Hanover has preserved portions of the old train railway beds as walking trails. Learn about the years in the 19th and 20th Centuries when trains connected Hanover to Boston by exploring the trail together. The tour will last about an hour about an hour and will take place unless the weather is extreme. Meet at the Rail Trail parking lot on Hanover Street just across from the West Hanover Pizzeria.
____________________________________________________________________
Beekeeping Talk
Wednesday, September 27th, 6:30pm, John Curtis Free Library
Did you know the Hanover Historical Society has honeybee hives at our museum?
Join the Hanover Historical Society at the John Curtis Free Library (534 Hanover St, Hanover) on Wednesday September 27th at 6:30pm for a fascinating talk on beekeeping and the importance of honeybees on the South Shore. Lisa Spampinato is an experienced beekeeper in Marshfield. She will deliver a presentation about all aspects of honey bees - the lifecycle of a honey bee, how a hive functions, what do beekeepers do and the perils that honeybees face today. Lecture will include time for questions at the end.
The event is free and open to the public, we hope to see you there!
____________________________________________________________________
Come visit Hanover Historical Society from 12pm to 4pm, Saturday September 30th for a local fall
market! Shop local vendors and get one of- a-kind goods such as pottery, candles, local honey, and so much more. Our historic house museum, the Stetson House, will also be open for tours as well as our historic barn and cobbler shop. Bring the family, get ahead of some holiday shopping and support local artisans while immersed in our historic landscape!
____________________________________________________________________
Blacksmith Demonstration, Saturday, October 14th, 12 noon to 3pm
Hanover once had dozens of blacksmiths making all kinds of iron pieces. Dean Rantz of Rock Village Forge in Middleborough will be giving a blacksmithing demonstration at the Stetson House. See how this ancient craft is practiced by a modern blacksmith.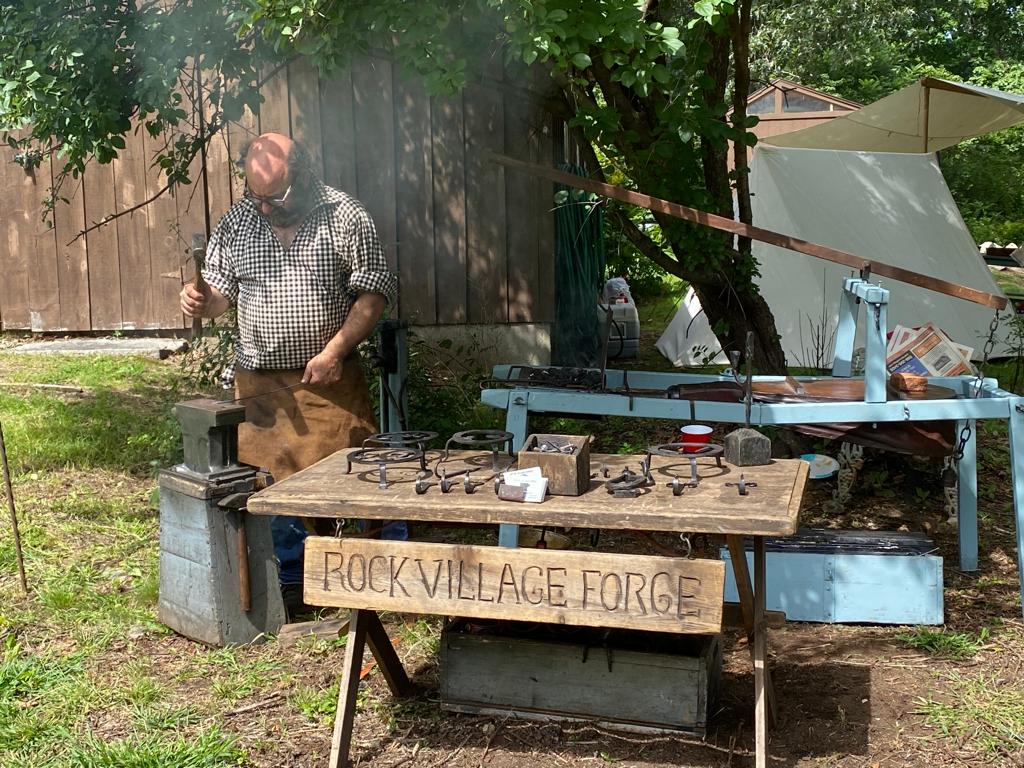 ---
Save the date!
Annual Meeting, Sunday October 22nd, 1pm -2:30pm
Phoenix Lodge, 133 Broadway, Hanover, MA 02339
Save the date for the Hanover Historical Society's Annual Meeting for 2023. The meeting will include a light
luncheon and a brief business meeting. These will be followed by a presentation from Jonathan Lane, Director of Revolution250 for Massachusetts. The topic will be how the American Revolution's 250th anniversaries are being commemorated around the Commonwealth and how Hanover can participate and prepare for its own 300th Anniversary in 2027.
Members $20, non-members $25, payable at the door. RSVP by email to [email protected] or by phone at 781-826-9575
____________________________________________________________________
Halloween Weekend! Many people in town say the Stetson House is haunted. What about the Center Cemetery? Join us and see for yourself!
House of Ghosts and Creepy Dolls. Visit the Stetson House on Saturday, October 28th from 12noon when it will be decorated with ghosts and every 3rd graders' favorites, the creepy dolls on the second floor. This fun and family-friendly event will get you in the Halloween spirit!
Stories from Stones: A History Tour of Hanover's Center Cemetery
Sunday, October 29th, 3pm, meet at the entrance near the First Parish Church. Nothing says late October more than an old New England cemetery a few days before Halloween. Join Hanover Historical Society Executive Director and cemetery expert Stephen O'Neill for a tour of Hanover's Center Cemetery. Learn the history of Hanover's oldest burying ground, its grave markers and memorials and the stories found among the cemetery's stones.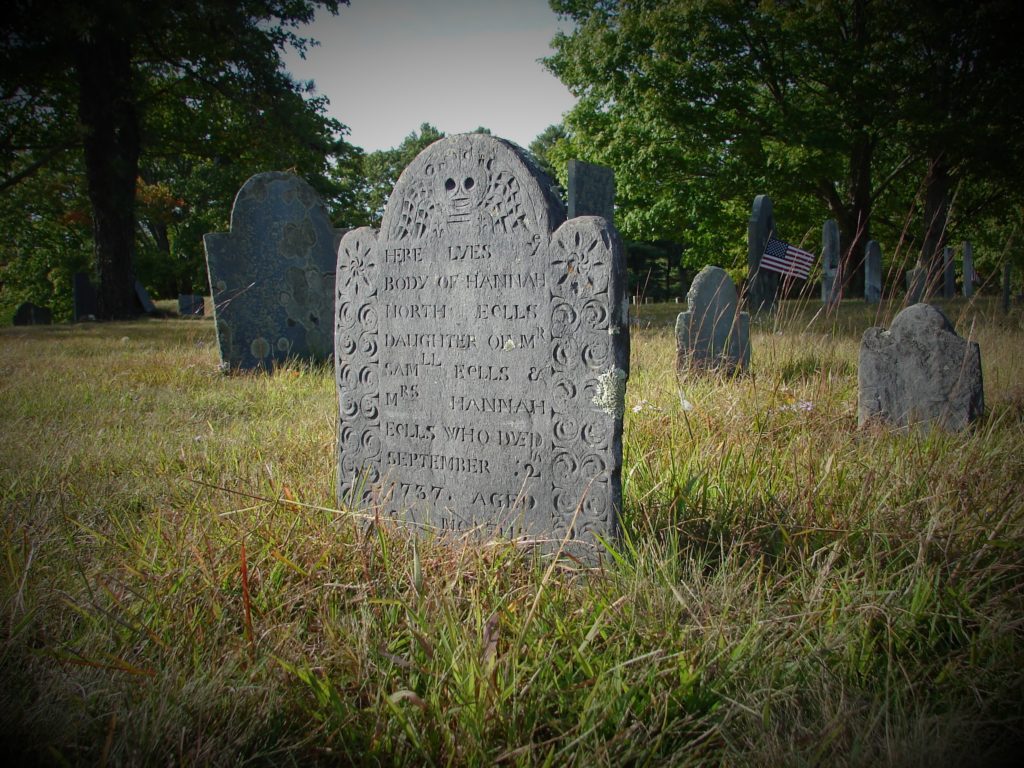 ---